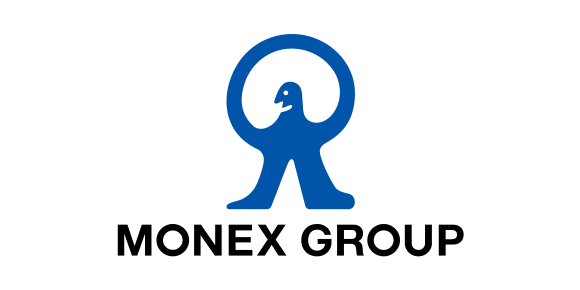 Monex Group, Inc. dates back to the launch of Monex, Inc. in 1999. Monex, Inc. the origin of the group, had offered various services to clients ahead of the pack in the online securities market.

The brand symbol, a human who draws a big circle using both hands standing firmly on the ground, represents "a human-centric network of money." The reason the online securities firm used "a human" as a motif is that we are nothing less than a company that moves hand-in-hand and grows with customers.
To value "the spirit as a pioneer," the Monex Group revamped the brand logo by changing its signature color from black to blue to imply that it spreads its wing around the world (sky) with the shape of the symbol kept intact, in July 2008.
Matsunaga was born in Tokyo in 1940. After completing the department of design at Tokyo University of the Arts in 1964, he worked in the advertising division of Shiseido Co., Ltd. In 1971, he founded Shin Matsunaga Design Inc.

His major works include the summer campaigns for Shiseido, a series of Peace posters, corporate identity (CI) designs for Benesse Holdings, Inc., ISSEY MIYAKE and The National Museum of Western Art in Tokyo. Package designs for Scottie tissue, Can Chu-Hi beverage , the French cigarette brand "Gitanes" (finishing 1st in an international competition) , Shiseido , "uno" men's cosmetics, etc. His creative activities also cover a range of other fields, such as drawings, sculptures and monuments.

He has received numerous awards, including the Tokyo Art Directors Club (ADC) Award, the Mainichi Design Award, Gold Medal and Honorary Award at the International Poster Biennale in Warsaw, the Education Minister's Art Encouragement Prize for Freshman, the Yamana Prize of the Japan Advertising Federation Awards, the Medal with Purple Ribbon from the Japanese Government, the Yusaku Kamekura Design Award and the Order of the Rising Sun, Gold Rays with Rosette from the Japanese Government.
He is a member of the Alliance Graphique Internationale (AGI), a member of the Tokyo Art Directors Club (ADC), a director of the Japan Graphic Designers Association Inc. (JAGDA) and a member of the Japan Design Committee.